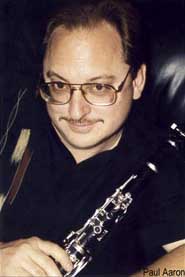 Trust in the Lord with all your heart and lean not on your own understanding. In all your ways acknowledge Him and He shall direct your path. Proverbs 3:5-6

JUNIOR HIGH & HIGH SCHOOL
Paul began playing the clarinet in 6th grade in El Campo, Texas. His teachers and judges always commented about the quality of his tone. Paul excelled at every level of band sitting first chair most of the time. Practicing as many as 3 and 4 hours a day during these years was not unusual. His directors were supportive of his talents except for the one judge in a Junior High Solo Contest who told him he had no musical ability and may as well give up. Fortunately, his band directors and mentor Mr. Thomas "Tommy" Williamson encouraged him to continue to play. While in High School Paul played clarinet in the marching band and symphonic band, and electric bass in the Jazz Band. Paul was instrumental in leading an all male clarinet quartet to appear in the prestigious Texas State Solo and Ensemble three years in a row.
Accomplishment during this time included:
1972-73 & 73-74 Region XIII Band Jr. High
1974-75 All Region Band & All District Band
1975-76 76-77 & 77-78 All Region Band, All District Band & TMEA All Area Band
1977 - University Interscholastic League Sweepstakes Award
3 First Place Division awards in Ensemble - UIL - Competed in the Texas UIL State Solo & Ensemble
2 First Place Division awards in Solo - UIL - Competed in the Texas UIL State Solo & Ensemble
UIL State Solo 1st Division Medallion - University of Texas - Austin
Paul concluded his high school competitions with an award winning solo performance.
Paul was also privileged to study under Richard Picar, the principal clarinetist for the Houston Symphony during his Junior and Senior Years.
Paul often played solos in church and played in the church band, both on Clarinet and Guitar.
COLLEGE & MUSIC
Paul was offered multiple 4 year scholarships to study clarinet at the University level but chose to attend Southwestern Assemblies of God College in Waxahachie, Texas. He decided to pursue music ministry and graduated with a Bachelors of Science Degree in Sacred Music in May of 1983.
He also met his wife, Karla, during this time. They were married in May of 1981. His first son, Brandon Paul was born in March of 1983. They attended Evangel Temple in Waxahachie, Texas.
In 1987, Paul was accepted into the Master' s program at Southwestern Baptist Theological Seminary with a concentration in performance. He did not however pursue this course due to economical reasons and to concentrate on his family and ministry.
MINISTRY & MUSIC
Paul's first ministry position was in Cleburne, Texas at First Assembly of God under Rev. Ken Jones. He held the position of Minister of Music and directed the choir, orchestra and a senior adult choir. He produced and directed several large musicals that were well attended by the community.
Paul moved to Florida to accept a position with First Assembly of God in Gainesville under Rev. A.L. Lastinger. He was the Assistant Pastor in charge of the Music Ministry and Home Group Ministry. He organized, produced and conducted the first musical the church had performed with a combination live choir and orchestra. While in Gainesville, Paul was also the overseer for the Chi Alpha Ministries at the University of Florida.
Paul returned to Texas to work with a new church in Arlington, Texas. Church of Abundant Life was pioneered by Rev. Jim McCorkle. Paul served in multiple leadership roles including Worship Leader for majority of the 11 years. He also chaired a financial campaign and led the Home Fellowship Group ministry. His second son, Kolton Ryan, was born during this time.
Bethel Temple in Fort Worth became the church home of Paul after his ministry at Church of Abundant Life. This church has a great musical heritage including that of Ira Stanphill and Dr. Norman Borge. Paul became involved in playing his clarinet in the orchestra, playing solos and singing in the choir. A highlight of this time was participating in a combined church musical production that sold out two performances at Bass Hall in Fort Worth. Paul was also privileged to serve as Worship Leader for nine months.
CLARINET RECORDINGS
In 2002, while attending the International Worship Institute in Dallas, Paul took a Master' s class taught by Nick Coetzee. Nick was teaching on the aspects of recording an album. Paul felt Nick' s experience in producing instrumental albums such as "Reflections" with Integrity and "Shout To Lord" , as well as "Hiding Place" for Maranatha, and the "Colors" devotional instrumental CD, would be a good match. They agreed to meet to discuss the possibility of recording a clarinet album.
Paul expressed to Nick his desire to capture the essence of the anointing that many people experience upon hearing Paul play. Nick understood this desire helped Paul by arranging, producing and recording the first Album, Tis So Sweet To Trust. Nick and Paul began each recording session with prayer, praise and worship. People consistently tell him that they listen to the CD' s over and over again and how it blesses them. They truly know that he is playing from his heart under the anointing of the gift that God has entrusted to him. As you know, they have produced and recorded two more albums in the To Trust Series.

Let the peace of Christ rule in your hearts, since, as one body, you are called to peace. Colossians 3:15
<-- BACK :: HOME :: ORDER -->